Stand firm in the face of gravity—with Ultherapy®!
Ultherapy is all-the-buzz! You may have seen it featured on national TV shows such as Rachael Ray, The Doctors, 20/20 and The View, plus touted by big-name beauty editors from Vogue, Harper's Bazaar, Marie Claire and more.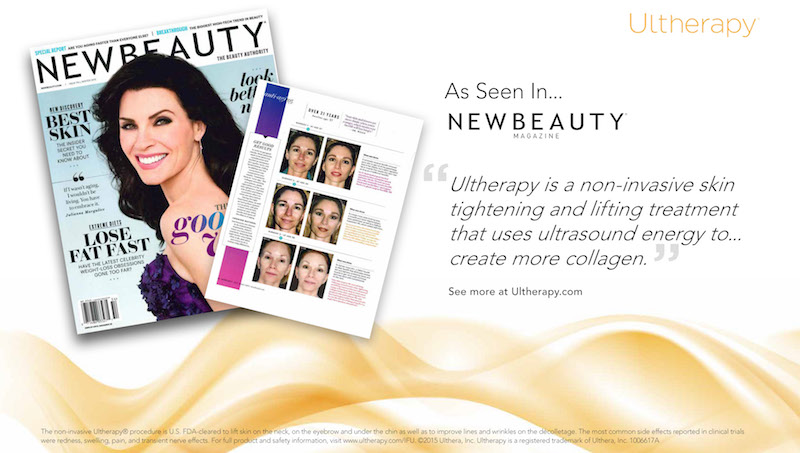 OrangeTwist, led by acclaimed Dr. Grant Stevens is among the most elite Orange County Ultherapy practices to offer the non-surgical face lift procedure. Ultherapy counteracts the effects of time and gravity on your face and neck skin. The beauty of this 60-minute in-office procedure is that it stimulates the production of new collagen non-invasively. The result? Tighter, better-fitting skin… And with Centers in Newport Beach, Brea, and San Juan Capistrano, Ultherapy is your fast, convenient and safe lunch time face lift!*
And now, there's even more to talk about! Ultherapy is also the only non-invasive treatment specifically FDA-cleared to help improve the appearance of lines and wrinkles on the décolletage!*
Ultherapy Before and After Pictures
How can Ultherapy tighten my skin?
Ultherapy uses safe, proven ultrasound energy to help lift and tighten the skin naturally—without surgery or downtime. Ultherapy is the only non-invasive procedure FDA-cleared for skin lifting on the neck, under the chin and on the eyebrow. Now also FDA-cleared to improve the appearance of lines and wrinkles on the décolletage, Ultherapy can help you achieve a fresher, more youthful look from your brow to your chest! Ultherapy uses focused ultrasound to stimulate collagen deep within the skin, with no downtime required. The result? Tighter, better-fitting skin, from the brow to the chest!*
Safe Ultrasound. No Surgery. Ultherapy harnesses the power of ultrasound to transform the brow, chin, neck and chest. Ultrasound, of course, has been used safely throughout the medical field for more than 50 years—and Ultherapy has been established for skin lifting as safe and effective in clinical studies and in more than 350,000 treatments worldwide.*
No Downtime. Natural Results. Some patients see an initial effect right after their treatment, but real improvements appear over 2−3 months as new collagen works to lift and tighten skin on the neck, chin and brow as well as smooth skin on the chest. While Ultherapy won't duplicate the results of a facelift, it's a clinically proven non-invasive alternative for those not ready for surgery—and can even be an option for patients who wish to extend the effects of skin lifting through cosmetic surgery.*
Frequently Asked Questions About Ultherapy Skin Lifting
How does Ultherapy differ from laser treatments?
Ultherapy uses sound energy – tried and true ultrasound – which has unique properties that allow it to bypass the surface of the skin to treat depths not matched by any other non-invasive cosmetic device. Ultherapy ultrasound stimulates collagen production in the skin's foundation, providing a clinically significant lift of the tissue over 2-3 months. Lasers rely on light energy, which cannot reach deeper skin layers at an optimal temperature, so laser treatments typically only treat superficial skin and are not FDA-cleared to lift skin. Since the two technologies often treat different types of skin issues, they are actually very compatible.*
How does Ultherapy stimulate the creation of collagen?
Ultherapy deposits focused ultrasound energy deep beneath the skin at the optimal temperature for collagen regeneration. The treatment helps to jumpstart a natural process, know as neocollagenesis, to produce fresh, new collagen. Ultherapy doesn't involve any creams, fillers or toxins; it just relies on your body's own collagen-building process for natural, noticeable results.*
Will I need to take time off?
With Ultherapy, there is no downtime. After your procedure, you can resume your normal activities immediately, without having to follow any special post-treatment measures. Your skin might appear flushed at first, but any redness should disappear within a few hours.*
Who is a good candidate for Ultherapy?
A good Ultherapy candidate has mild to moderate skin laxity where the skin begins to feel and look less firm. Examples include a lowered eyebrow line, loose skin on the neck, sagging under the chin, and lines or wrinkles on the chest.* Of course, the best way to find out if you're a good candidate for Ultherapy is to come in for a complimentary consultation with one of OrangeTwist's specialists. Just request a convenient time for you with the form below.
Here from Gina's before and after Ultherapy story
*Individual results may vary with different patient experiences.
Appointments
Ready to see the results for yourself? Schedule your consultation today.