Freeze the Fat Away with the Coolest Fat Reduction Treatment available!
CoolSculpting® is one of the coolest, most innovative, non-surgical ways to help you lose those annoying bumps and bulges of stubborn fat. This revolutionary technology targets and cools unwanted fat cells in the selected area to help induce a noticeable, natural-looking reduction in fat bulges. Unlike most other methods of fat reduction, CoolSculpting involves no needles, surgery, or downtime. Patients often spend procedure time reading, working on their laptops, or simply relaxing. It's safe, FDA-cleared and effective. Results look natural and can be seen as early as three weeks following treatment. One to three months after treatment often see the most dramatic results of fat loss. And now its even better! OrangeTwist is one of the few centers in the nation to offer the brand new CoolSculpting CoolMini to help remove fat from the chin and neck area! OrangeTwist is one of only a handful of centers that offers the CoolSculpting CoolAdvantage which treats areas in only 35 minutes!* Arm fat you ask? We got you. OrangeTwist is the first provider in Southern California to offer clients the brand new CoolAdvantage Petite. It is the ONLY FDA cleared treatment for upper arm fat reduction. 
*
How does CoolSculpting work?
Freeze the fat away? It comes down to science. Fat cells freeze at higher temperatures than surrounding tissues. The idea that cold can selectively affect fat led to the innovative cooling process developed by scientists at a teaching affiliate of Harvard Medical School. CoolSculpting technology safely delivers precisely controlled cooling to gently and effectively target the fat cells underneath the skin. The treated fat cells are crystallized (frozen), then die. Over time, your body naturally processes the fat and flushes these dead cells, leaving a more sculpted you.*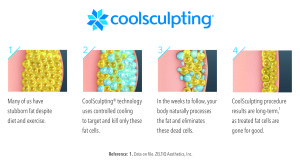 What areas can you treat with CoolSculpting?
With a variety of applicators, all available at OrangeTwist, CoolSculpting can help treat unwanted, stubborn fat in a variety of areas including, but not limited to: tummy, love handles, flanks, inner & outer thighs, under the chin (can be treated with the brand new CoolMini applicator!), and finally the arms with the new CoolAdvantage Petite applicator.*
CoolMini? CoolAdvantage? What else can those help with?
The CoolMini and CoolAdvantage at OrangeTwist are CoolSculpting's specialized treatment applicators. Their small size and advanced technology allows for non-invasive neck lifts helping double chins to be reduced.* Its unique shape and size also provides for excellent treatment of fat bulges around the knees and underarms. The CoolAdvantage and CoolAdvantage Petite allow for much shorter treatments in as little as 35 minutes!

Introducing the CoolAdvantage Petite.
Finally, the answer to upper arm and small pockets of fat.
The brand new CoolAdvantage Petite, exclusively at OrangeTwist is CoolSculpting's newest treatment applicator. It is the smallest, fastest and most advanced technology allows for non-invasive reduction of fat in the upper arms and other difficult small patches of fat.* Small areas of the body, including the upper arms, bra roll, inner thighs, and flanks are some of the most challenging areas to treat. They have small delicate structures, awkward shapes and roundness that make applying past technologies troublesome. Now, the Petite with its unique shape and small size will fit any arm length or small fold area with the ability to tailor specifically to individual patients. Its shallowness prevents discomfort more than any other applicator. The CoolAdvantage Petite also allows for much shorter treatments in as little as 30 minutes!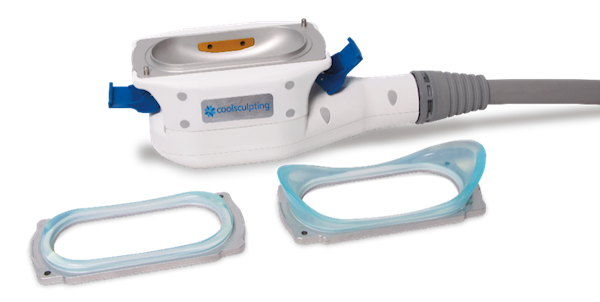 CoolAdvantage Petite Upper Arm Before and Afters
CoolSculpting Now Provides Total Body Coverage!

With the recent FDA Clearance, CoolSculpting now is approved to treat upper arms safely and effectively with the new CoolAdvantage Petite applicator.  CoolSculpting at OrangeTwist is the only treatment on the market with total body coverage clearance that now includes Upper Arms, Double Chin, Bra Fat, Back Fat, Abdomen, Flank, Thighs and Banana Roll (underneath the buttocks)!   Now a permanent fat reduction solution for Upper Arm fat.*
How much does CoolSculpting cost?
CoolSculpting is a great, affordable option for those seeking help to reduce of stubborn fat without surgery or downtime. Each client is different in their personal fat reduction goals and needs. A in-person evaluation is needed to determine the full cost of treatment to transformation that our clients desire. CoolSculpting is usually less than half the cost of invasive fat removal treatments such as liposuction or surgery. OrangeTwist offers financing through CareCredit for our clients.
How long does CoolSculpting take?
OrangeTwist offers DualSculpting and TriSculpting, which means we have multiple CoolSculpting machines to offer your treatments in half the total time or less. Each area treated typically takes about an hour and the number of areas you are treating will dictate the amount of time you are with us. The great news is that the treatment is incredibly easy and our facility is set up to ensure your comfort from beginning to end, equipped with TVs, WiFi, and magazines. Patients can catch up on e-mails or sleep while being treated. Results are typically seen in 1-3 months after the treatment.*
Does CoolSculpting work?
CoolSculpting works incredibly well, helping to reduce unwanted fat in troublesome areas. The pictures speak for themselves! There are some clients who may not be good candidates for CoolSculpting — we offer complimentary 360° consultations to discuss your personal needs and whether or not CoolSculpting may be right for you. See the before and after CoolSculpting results for yourself!*
CoolSculpting Before and After Pictures
Why should I choose OrangeTwist for CoolSculpting?
OrangeTwist, led by Dr. Grant Stevens, is the largest CoolSculpting practice in the nation. Having provided over 1,000,000 treatments, we are the true leader in the industry. Our experienced staff of medical practitioners understand the art of Treatment to Transformation, allowing our clients to look and feel their best. OrangeTwist provides CoolSculpting for all of Orange County with convenient locations in Newport Beach, Brea, and San Juan Capistrano. OrangeTwist now also offers CoolSculpting for the Desert Cities with the June 2017 opening of its newest Aesthetic Center in Rancho Mirage, CA. Only trust your body sculpting needs with the proven experts. Go ahead and schedule a consultation. What do you have to lose?
Hear what real CoolSculpting patients have to say.
*Individual results may vary with different patient experiences.
Go Ahead, Let's Get Started!
Appointments
Ready to see the results for yourself? Schedule your consultation today.